Neil Patel, Co-founder & CEO, Awaaz.De was invited as a panelist for the session titled "Perspectives on leveraging IoT and Hyper Connectedness for Social Innovation & Entrepreneurship (India & Asia)" at the SAP-CIIE Accelerator launch at the Centre for Innovation Incubation and Entrepreneurship at the IIM Ahmedabad on May 27th.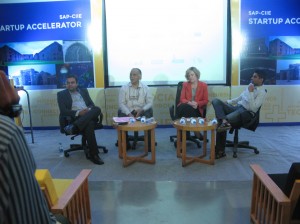 The Accelerator is an ambitious and important initiative by CIIE and SAP dedicated to nurturing the startup culture in Ahmedabad city and Gujarat state. Great ideas take shape in great minds, but for scaling up these ideas partnerships and collaborations are inevitable. The SAP-CIIE Accelerator will catalyze an entrepreneurial ecosystem and culture in Ahmedabad and Gujarat. Through this platform entrepreneurs will have the opportunity to interact and build relationships with fellow entrepreneurs, angel investors, mentors etc. and expand their networks and build capacity.
The panel on Perspectives on leveraging IoT and Hyper Connectedness for Social Innovation & Entrepreneurship (India & Asia) included Kunal Upadhyay (Chief Executive, CIIE), Adaire Fox-Martin, President, SAP Asia Pacific Japan, Sunil Parekh, Mentor and Board Member, CIIE and Neil Patel.
Some key points made by all the panelists are highlighted below:
Ms. Adaire Fox-martin of SAP South Asia Pacific expressed SAP's commitment to nurturing SMEs and small businesses. She stated that SAP looks forward to providing mentorship to cultivate ideas for social impact and successful businesses.
Ashwin Joshi, VP, Ecosystem Development (CIIE) made a presentation highlighting the Accelerator's purpose and objectives and how it aims to achieve the same through creating startups, activating angel investments, getting mentors on board, catalyze collaboration and support technology enabled-ideas. Above all, the Accelerator will operate within Gujarat to encourage Gujarat based-entrepreneurs to come forward.
Neil talked about how entrepreneurs and changemakers should be particular about the problems we choose to solve. He continued by saying that the focus must be on impact, people and their problems. Neil also spoke about challenges a startup has to face such as financial resources which are important to expand outreach and ensure sustainability.
Kunal Upadhyay emphasized the need for creating physical spaces and frameworks such as the Accelerator programme to encourage engagement between like-minded individuals to ultimately create a startup culture in Ahmedabad.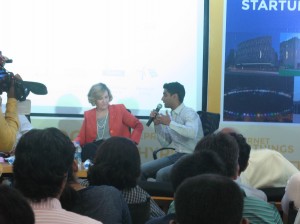 The event was very helpful for budding entrepreneurs and startups. We met quite a few young people who interacted with Neil and asked some interesting questions.
Awaaz.De is honoured to be invited by CIIE to collaborate as mentor for budding startups and entrepreneurs under the auspices of the SAP-CIIE Accelerator programme. With his experience and passion for technology for social impact, Neil Patel is excited about this new direction for Awaaz.De. As one of the leading startups in the entrepreneurial space in Gujarat, we look forward to partnering with CIIE at IIM Ahmedabad and playing an active role in nurturing and promoting a vibrant startup culture and leadership in Gujarat!
Know more about the event :