Awaaz.De Co-Founder and CEO, Neil Patel spoke at Ahmedabad University's Workshop "Entrepreneurial Gateway Workshop For Next Gen & Start Up Entrepreneurs". The workshop was hosted by Venture Studio a startup incubator at Ahmedabad University in association with Stanford Design School and EMBA Program Amrut Mody School of Management. The hosts extended a special invitation to Neil to speak at the workshop's panel discussion: Entrepreneurial Ecosystem.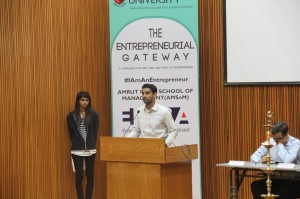 Workshop attendees included young persons aspiring to join their family businesses and young innovators aiming at starting their own startups. The presence of young people striving to become successful entrepreneurs was inspiring for Neil who shared some real life experiences and learning with the young attendees.On-the-ground  experience sharing gives an important perspective on what it takes to be a successful entrepreneur.
The host institutions: Ahmedabad University and Amrut Mody School of Management are committed to mentor and create skilled and motivated job creators in India. This is an important social goal and Awaaz.De commends this effort. Engaging with young people is the need of the hour. This is the right time to leverage the youth's interest in becoming entrepreneurs and productive social agents as the global dialogue on driving innovation for economic growth and youth engagement in ICT strengthens.
We thank Ahmedabad University and Amrut Mody School of Management for having us and giving us an opportunity to be part of Ahmedabad's rich and growing entrepreneurial ecosystem.