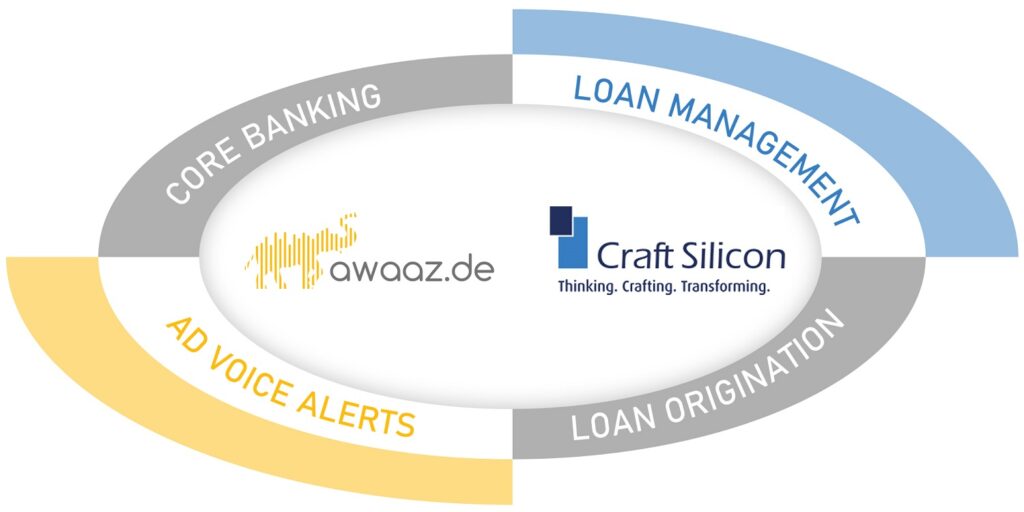 In a bid to bolster stakeholder confidence and provide a delightful customer experience, India's leading financial technology providers Awaaz.De and Craft Silicon have announced a partnership for automated last-mile connectivity. In addition to improving productivity and technology adoption, the partnership will address operational challenges associated with conventional tele-calling infrastructure. Impacting millions of last-mile borrowers, this partnership aims to disseminate timely and contextual communication in 13+ vernacular languages for informed financial decision-making.
The partnership between Awaaz.De and Craft Silicon will equip financial institutions with the ability to automate customer support and sourcing, red-flag discrepancies, and analyze branch-level performance to further optimize the mobile messaging campaigns. Core Microfinance Solution from Craft Silicon integrated with Awaaz.De's SaaS-based platform for mobile vernacular communication can enable financial institutions to send vernacular voice alerts throughout the customer lifecycle, offering
Seamless data integration for sending vernacular alerts from day one, less error prone than semi-automated sharing
Better customer experience as messages can be triggered in real-time from the field
Communications optimized for financial inclusion in 13+ vernacular languages market-proven to increase repayment
Digital collections capability directly added into the Core Banking System
Commenting on the partnership Dr. Neil Patel, CEO, Awaaz.De, said, "Financial inclusion must overcome language, literacy, and connectivity barriers to engage with customers. Voice messaging delivered to any mobile, including feature phones, cuts through these barriers. Our partnership with Craft Silicon allows financial institutions to go live seamlessly with no technical implementation. Customers can begin receiving messages immediately, coordinated precisely with field activities, in a format they can understand easily. This builds trust and loyalty with the institution. It's time for the industry to stop throwing away op-ex on SMS alerts that never get read and have no impact, and upgrade to voice-based engagement."
According to Siva Kumar, CEO – Asia, Craft Silicon, "The partnership between Craft Silicon and Awaaz.De enables multi-channel communication to engage customers deeply and provide a delightful user experience tailored to the last-mile. This partnership will focus on direct engagement during the entire tenure of a loan lifecycle without any extra cost to either an MFI or a borrower, infuse borrower discipline and will be compliant to communication norms and standard."
This partnership aims to provide Financial Institutions with an automated customer support, highly interactive communication that provides a payment nudge towards digital transaction and behavioural analytics to increase efficiency.
---
About Awaaz.De
Awaaz.De is a SaaS-based enterprise based out of Ahmedabad making financial services more affordable, comprehensive, and delightful by digitizing microfinance. Awaaz.De offers a scalable borrower engagement platform by leveraging mobile messaging and voice interaction to overcome language, literacy, and connectivity barriers. Financial institutions use Awaaz.De's 360° Customer Connect to send customized, automated voice reminders and confirmations throughout the borrower lifecycle, driving market-proven results for collection/recovery, fraud prevention, and up-sell. Awaaz.De reaches 1 Crore+ last-mile users in 29 states across India, delivering 95% reduction in operational expenditure as opposed to telecalling and 30% increase in timely repayments. As a highly effective and universal tool for mass communication, Awaaz.De's impact is Harvard Business School proven, and our innovative approach is Gates Foundation funded.
About Craft Silicon
Craft Silicon is a leading financial technology solution provider and is recognized as one of the most tech-savvy software groups globally. Craft Silicon supports 300+ Financial Institutions by delivering value in over 30 countries. They provide robust solutions that include Core Banking, Loan Management, Channel Banking, etc. Managing over $ 12 Bn of Loan Portfolio, 99 Mn customers & 3.5+ Bn transactions per year in Asia region.